Skip to content
United for Abortion Coverage Week of Action: New York City
[fusion_builder_container hundred_percent="yes" overflow="visible"][fusion_builder_row][fusion_builder_column type="1_1″ background_position="left top" background_color="" border_size="" border_color="" border_style="solid" spacing="yes" background_image="" background_repeat="no-repeat" padding="" margin_top="0px" margin_bottom="0px" class="" id="" animation_type="" animation_speed="0.3″ animation_direction="left" hide_on_mobile="no" center_content="no" min_height="none"][fusion_text]For 40 years, politicians have used the Hyde Amendment to deny abortion coverage for those struggling to get by. New Yorkers are coming together to say: Enough is enough! It's time to #BeBoldEndHyde.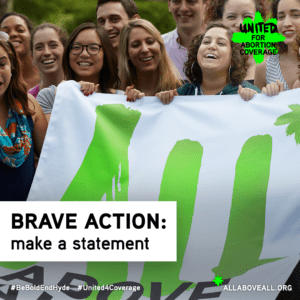 Building on the momentum of the recent Supreme Court decision, we're tackling one of the harshest remaining barriers to abortion: the 40-year-old Hyde Amendment, which politicians use to deny coverage for abortion care for those insured through Medicaid. To show the growing commitment to lifting this harmful restriction on abortion, people from around the country are joining together for the first-ever United for Abortion Coverage Week of Action from Sept. 25 to Oct. 1. In New York City, because we always go big, we have something happening every day of the week!
Check back on this page to stay up to date on the latest events we have planned, and click on the links below to get more information and to RSVP to a specific event. Follow along on social media using the hashtags #BeBoldEndHyde and #United4Coverage.
Sunday, Sept. 25: Lady Parts Justice League will be tabling at Atlantic Antic

! Make sure to find their table and swing by to get a gold uterus flash tattoo and sign All* Above All's petition asking our representatives in Congress to lift restrictions on abortion coverage.  

Monday, Sept. 26: Show your support for reproductive and economic justice outside Hofstra University with the National Institute for Reproductive Health and National Latina Institute for Reproductive Health at the first presidential debate. Get more details and RSVP here. The bus will leave Manhattan at 2:30 p.m.
Tuesday, Sept. 27: 

Have a drink at Negril Village for a special Repro Health Happy Hour in honor of the United for Abortion Coverage Week of Action.

Get more details here.
Wednesday, Sept. 28: 

Join us for the ultimate photo opportunity to celebrate the diversity of the movement to lift abortion coverage bans! 

Activists from across the city will meet for a photo opportunity with the All* Above All banner on the steps of City Hall and at the New York Stock Exchange in celebration of the City Council's passage of a Proclamation calling for an end to abortion coverage bans and passage of the EACH Woman Act. Contact Jenny Mistry at 

[email protected]

 for more information.
Thursday, Sept. 29: It's a Hyde UnHappy Hour! The Reproductive Health Access Project is hosting this exciting evening of food, drinks, live performances, and activism at Littlefield, beginning at 6 p.m. Get more details, and buy your tickets here. Also on Thursday, the National Latina Institute for Reproductive Health will be at John Jay College of Criminal Justice to host a screening of the documentary Entre Nos, followed by a conversation about immigration and reproductive justice. Check out the Facebook event here for more information, and RSVP here.
Friday, Sept. 30:

The New York Society for Ethical Culture will honor Planned Parenthood Federation of America with its 2016 Ethical Humanist Award. The event will include a panel featuring Jennifer Dalven, director of the ACLU Reproductive Freedom Project, Stephanie Toti, senior counsel at the Center for Reproductive Rights

, and Dr. Tanya Ohly, an OB-GYN, among others. For more information, click here or call 212.874.5210 x113.
[/fusion_text][fusion_text]BONUS EVENT:
The Week of Action may end on Oct. 1, but the fight for reproductive justice doesn't stop. Join Lady Parts Justice at the Golden Probe Awards at (le) poisson rouge on Oct. 2 to "honor" outstanding achievement in the fields of sexism and anti-choice extremism. Get more details on how to register your watch party or attend in person here.
[/fusion_text][/fusion_builder_column][/fusion_builder_row][/fusion_builder_container]
GET THE FACTS.
GET INVOLVED.